Welcome to LADOS Online
On behalf of Lancaster Amateur Dramatic & Operatic Society we bid you a warm welcome to our 'foyer' on the Internet. Read all about our long history, our past productions and our latest endeavours.
Hairspray moved to 2021
In light of the ongoing situation we have now had to take the decision to move our production of "Hairspray" to 4th - 8th May 2021.
Rehearsals were originally suspended with just 7 weeks until the original opening night and it had been hoped we would be able to stage the show later this year. Social distancing creates issues for safe rehearsals as well as in the theatre itself for staff and audiences alike. We hope that this situation will be such that we can bring "Hairspray" to you in 2021.
As before, all bookings will been transferred to the new dates. If you booked tickets via a LADOS member and are unable to attend on the new dates, or would like to make any changes, then please contact the LADOS member. For bookings made direct with the Grand Theatre box office, online or via phone, they will be in contact to confirm or refund as you require. There is no need to contact the Grand Theatre yourself.
We look forward to hopefully seeing you all at the Grand next year! Coronavirus will NOT Stop The Beat, but it will delay things a little bit.
In the meantime please take care of yourselves and those around you.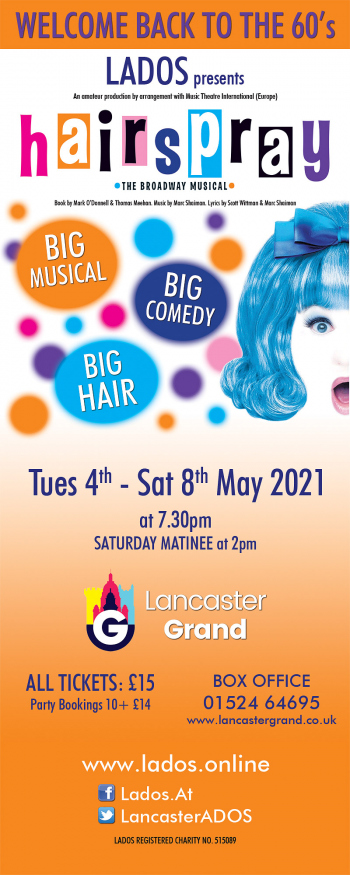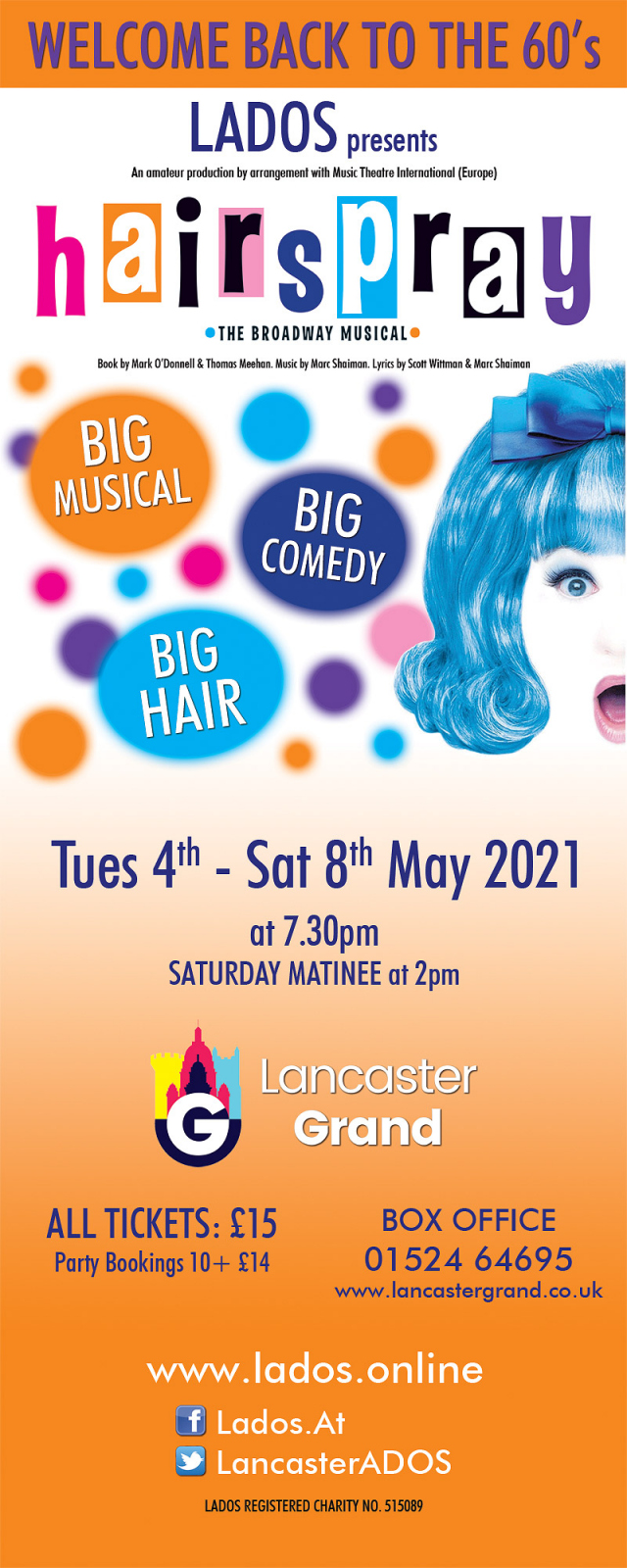 ×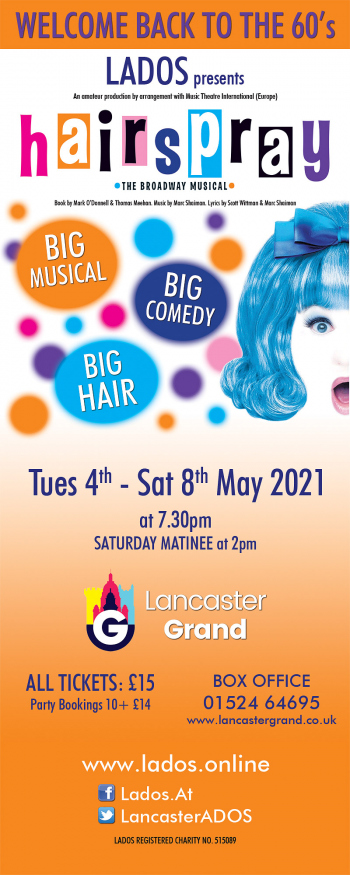 Our 2019 production of Andrew Lloyd Webber and Tim Rice's legendary rock opera Jesus Christ Superstar was at the Grand Theatre, Lancaster 7th - 11th May 2019. See full details of this spectacular production.
But now we fly 5,865 miles west from Jerusalem to Baltimore and jump forward 1,929 years to 1962 for our production of the hit Broadway musical Hairspray... welcome back to the 60's, at the Lancaster Grand, 4th - 8th May 2021!.
Directing this production will be Laura Saltariche who has been teaching Drama and English for the past 14 years and we welcome her on board this year. Holly Brown will reprise the role of Tracy Turnblad, having previously performed the role in our 2015 production. Holly will also Choreograph. Our Musical Director, Anna Eddowes-Scott, completes our production trio!

In memory of a true LADOS Superstar, Roger Bradley, we are proud to support Rosemere Cancer Foundation in 2019.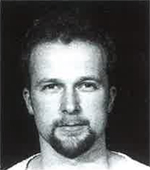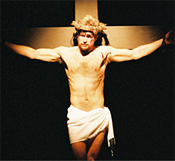 Roger first appeared on the LADOS stage as Diesel in our 1987 production of West Side Story, directing Chess in 2004 and appearing in every production up to his final curtain call in Hot Mikado in 2006.
Arguably his most notable role was that of Jesus of Nazareth in our 1996 production of Jesus Christ Superstar at the Lancaster Grand which he reprised for our 2002 production at the Lancaster Priory.
After 20 show-stopping years with LADOS Roger sadly died in 2007 from Melanoma.
Latest LADOS News...
Thursday 14th May 2020
Hairspray moved to 2021
In light of the ongoing situation we have now had to take the decision to move our production of "Hairspray" to 4th - 8th May 2021.
---
Monday 16th March 2020
Hairspray Postponed
In light of the unprecedented COVID-19 (Coronavirus) situation and the latest anouncements from Government it is with regret that we have taken the decision to postpone our upcoming production of Hairspray.
LADOS 2019 Production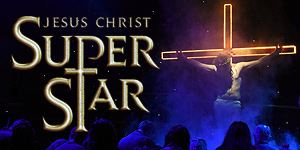 LADOS 2018 Production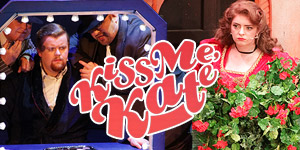 LADOS 2017 Production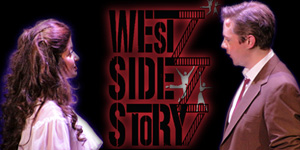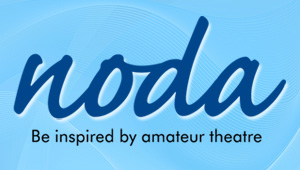 Copyright © 2005-2020 Lancaster Amateur Dramatic & Operatic Society

All Rights Reserved
No part of this website may be reproduced, stored in a retrieval system or transmitted in any form or by any means; electronic, mechanical, photocopying, recording or otherwise, without permission.

Registered Charity No. 515089

Contact Us - Privacy Policy

Copyright © 2005-2020
Lancaster Amateur Dramatic & Operatic Society

Registered Charity No. 515089

Contact Us - Privacy Policy

All Rights Reserved
No part of this website may be reproduced, stored in a retrieval system or transmitted in any form or by any means; electronic, mechanical, photocopying, recording or otherwise, without permission.